Essential independent cinema, the Cine Metro Art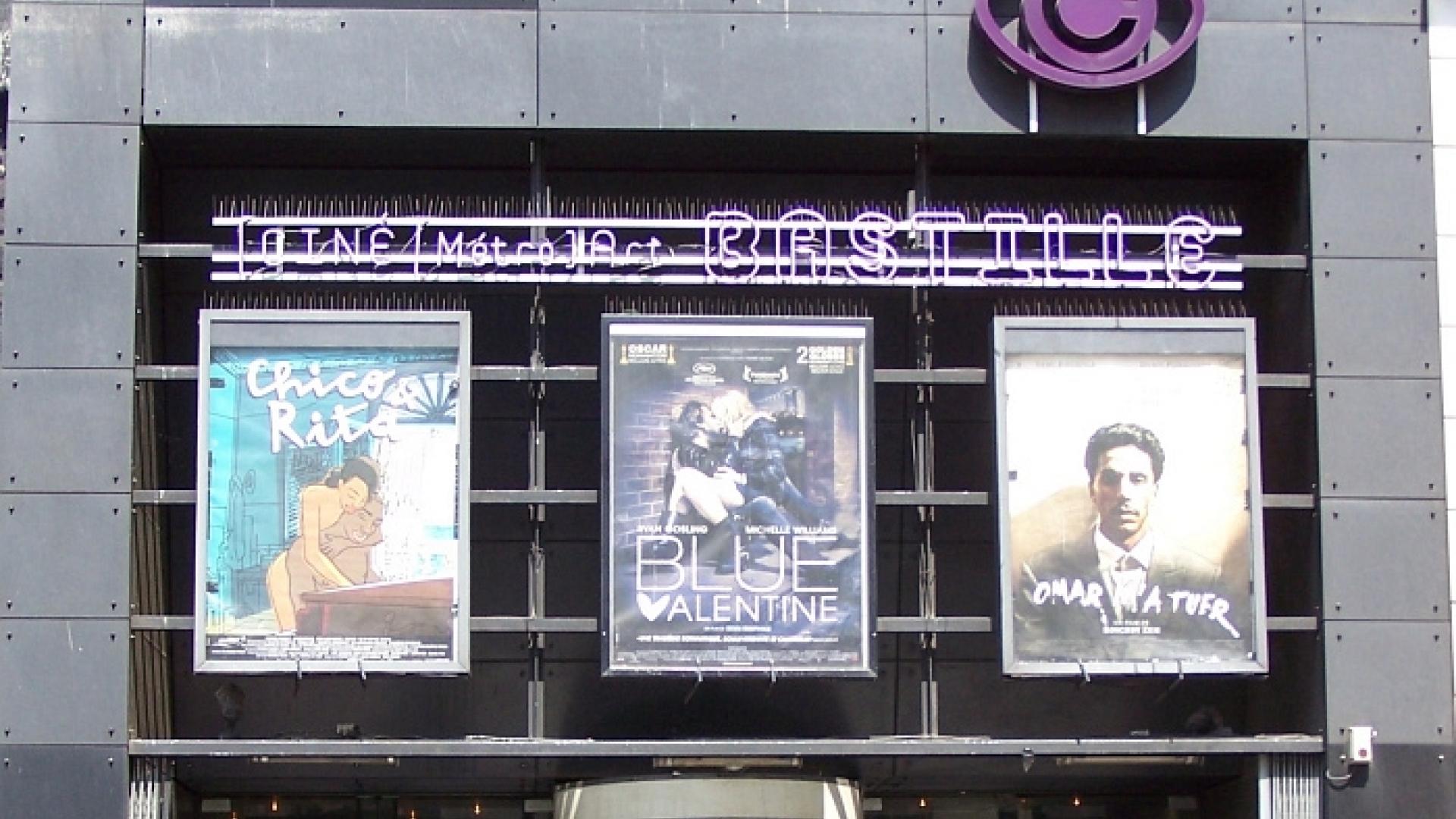 If, like us, you're passionate about cinema, you'll be delighted to know that only 300 metres from our hotel, the Pavillon Bastille, you can find the excellent independent movie theatre called the Ciné Métro Art Bastille, which screens art-house films and indie movies in their original language versions.
An intimate setting for movie buffs
The architectural style of the façade shows that the Bastille is essentially a traditional neighbourhood movie theatre that is solidly built of old stone and, having passed the test of time, today exudes a typically Parisian charm. The Ciné Métro Art network is independent, and the setting is intimate and discreet.
The cinema offers three screening rooms of different sizes. The main hall has 250 seats, the second largest can accommodate 133 people, and the smallest has seating for just 86 moviegoers. All offer digital projection systems and are equipped with Dolby SR, with the main hall having Dolby Digital SRD. The cinema is open from morning until evening, so you can go to see the movie of your choice at any time of the day during your stay in the capital. You'll find that the ticket prices are surprisingly low for a Parisian cinema, and although it is independent, if you have a UGC subscription, you can use it at the Bastille.
The history of this special cinema
The Ciné Métro Art Bastille, as well as being a haven for true cinephiles, also has an interesting history. It survived lean times by appealing to different target audiences over the years before offering the range of programming it is known for today.
Built in the 1930s, during a golden age of movie popularity, the theatre was originally called the Radio Cite Bastille and specialised in the screening of newsreels. In 1961 it was renamed Cinema la Bastille, but mainstream movie attendances were in decline through the 60s and in the 70s it succumbed to the tenor of the times by becoming a porn film theatre. In 1984 it grew into a multiscreen by adding two more screening rooms, eventually finding its way into the world of auteurs and arthouse movies, but not before passing through Kung-Fu and Western genre phases.
Arthouse programming and high standards
The cinema exercises great care in the choice of films, with integrity and artistic taste being the foremost considerations. The independent Ciné Métro Art network has a policy of spotlighting the French movie industry, directors who are undeservedly overlooked and films from France and elsewhere that are distinctive, individualistic, innovative and out of the ordinary.
Thus, here you can find cinematic projects that you may not hear much about in the media or find showing at the major cinemas. Originality and quality are what you will find here and we at the Hotel Pavillon Bastille are proud to support this fine establishment.
******
Arthouse programming with reruns of classic and current films:
Cinema Saint-Lazare Pasquier in Paris
44, rue Pasquier in Paris (8th arrondissement), Number of movie auditoriums: 3
Passes UGC Unlimited Pass-mk2 and Gaumont Pathé accepted
Cinema La Bastille in Paris
5, rue du Faubourg Saint-Antoine in Paris (11th arrondissement), Number of movie auditoriums: 3
Passes UGC Unlimited Pass-mk2 and Gaumont Pathé accepted
~oOo~
Original picture copyright holder : LPLT (Own work) [CC BY-SA 3.0 (http://creativecommons.org/licenses/by-sa/3.0) or GFDL (http://www.gnu.org/copyleft/fdl.html)], via Wikimedia Commons
---
Le Pavillon Bastille, a charming hotel in the heart of Paris Bastille