Come and have fun at the Fête des Tuileries!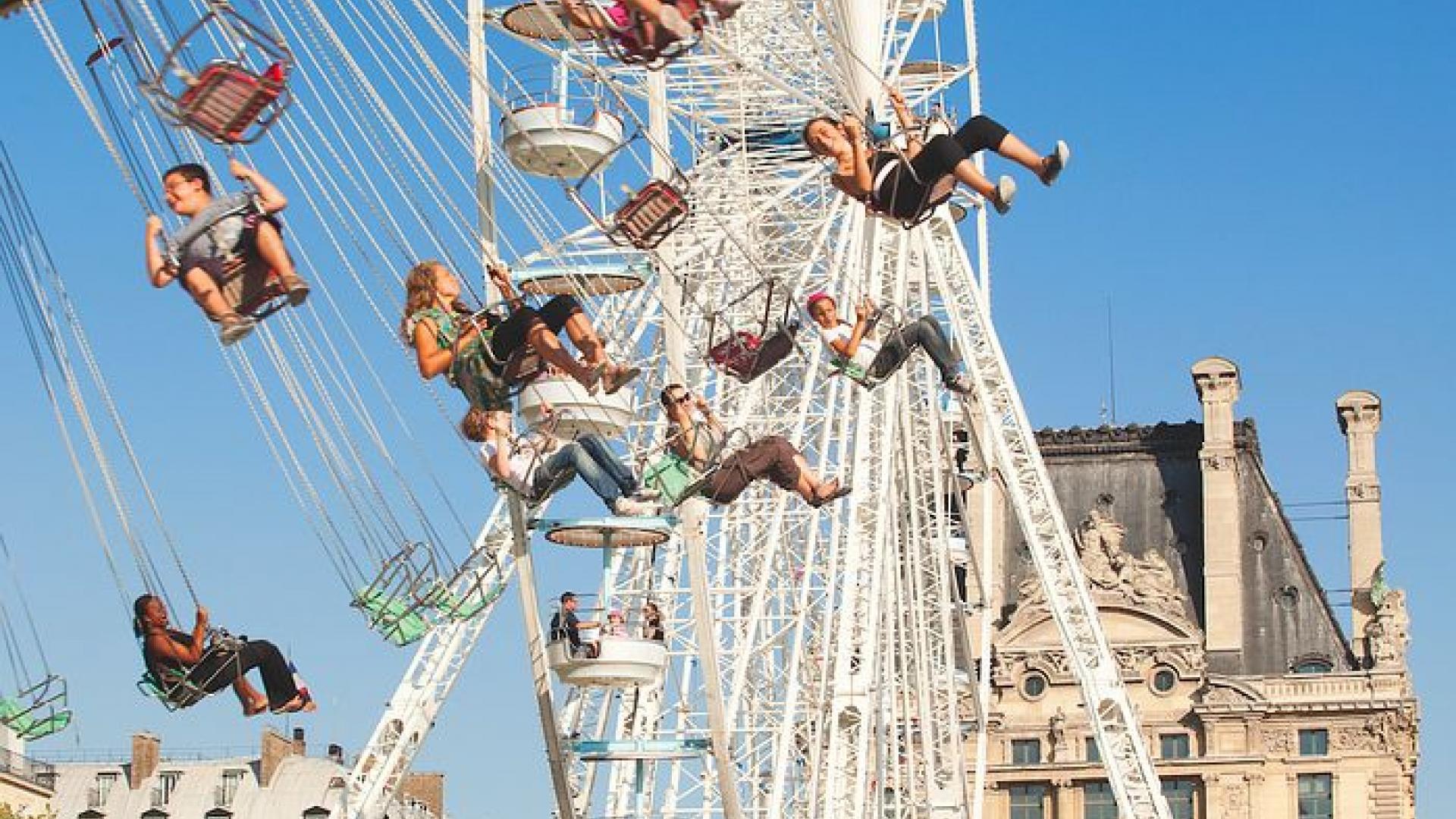 It's a Parisian tradition that has never lost its charm. Every summer the Jardin des Tuileries, a public park located between the Louvre Museum and the Place de la Concorde, is the setting for a traditional and hugely popular funfair. From June 27th to August 23rd, 2016, the party goes on in the centre of Paris with a Ferris wheel, dodgems, ghost train, hall of mirrors, a wonderful old carrousel and much more. There are also traditional fairground snacks to munch on between rides, such as candy floss, toffee apples, doughnuts and crepes. Adults and children alike love this annual event that brings everyone together in the cause of celebration and laughter! The Hotel Pavillon Bastille, which has communicating rooms, welcomes you for a family holiday...
A perfect setting for some fabulous photos!
The Fête des Tuileries offers some extra-special photo opportunities. Here's your chance to capture some great images of you and your family in the midst of the deliciously retro scenery of the rides, attractions and food stalls, with their sweet and slightly faded colours. Upload your pics on the social networks and let all your friends know the fun you're having! Immortalise these family-friendly and playful moments! To reach the Jardin des Tuileries from our hotel, you can just stroll along the Seine. The walk is gorgeous: let yourself be amazeb by the beauty of the buildings and places you see, from the Jardin des Plantes to the Ile Saint Louis ...
A beloved destination for young and old
Hook a duck, hoopla, Japanese billiards and more. Every summer in the Jardin des Tuileries you can rediscover the classics of the carnival. Time-honoured and still just as much fun as ever, these games of skill or luck don't need technology, but the kids still love them! Let them make some wonderful memories and who knows? In a few years they may be bringing their own children to enjoy the Aunt Sally, the coconut shy and the Chamboule Tout stand!
From granitas to candy floss: a fair full of treats
Gourmets of nostalgia will be particularly pleased to find the flavours of childhood awaiting them at the Fête des Tuileries. Marshmallows, waffles, doughnuts, churros: all the temptingly sweet treats and delights of the fair. These goodies will give your children all the fuel they need to tackle the Grand Toboggan, the Climbing Wall and the giant trampolines! Then, in the evening, after an unforgettable day in the centre of Paris, you can take it easy in the three star comfort of our rooms. Our hotel is pleased to welcome you and help make your stay absolutely perfect. Our rooms are spacious and tastefully decorated, and all have Wi-Fi. For a romantic getaway as much as for a family holiday, the Hotel Pavillon Bastille is a great choice.
******
Learn more:
Tuileries Gardens
~oOo~
Picture copyright holder: Tourist Office Paris - Photographer Marc Bertrand
---
Le Pavillon Bastille, a charming hotel in the heart of Paris Bastille