A terrace in Paris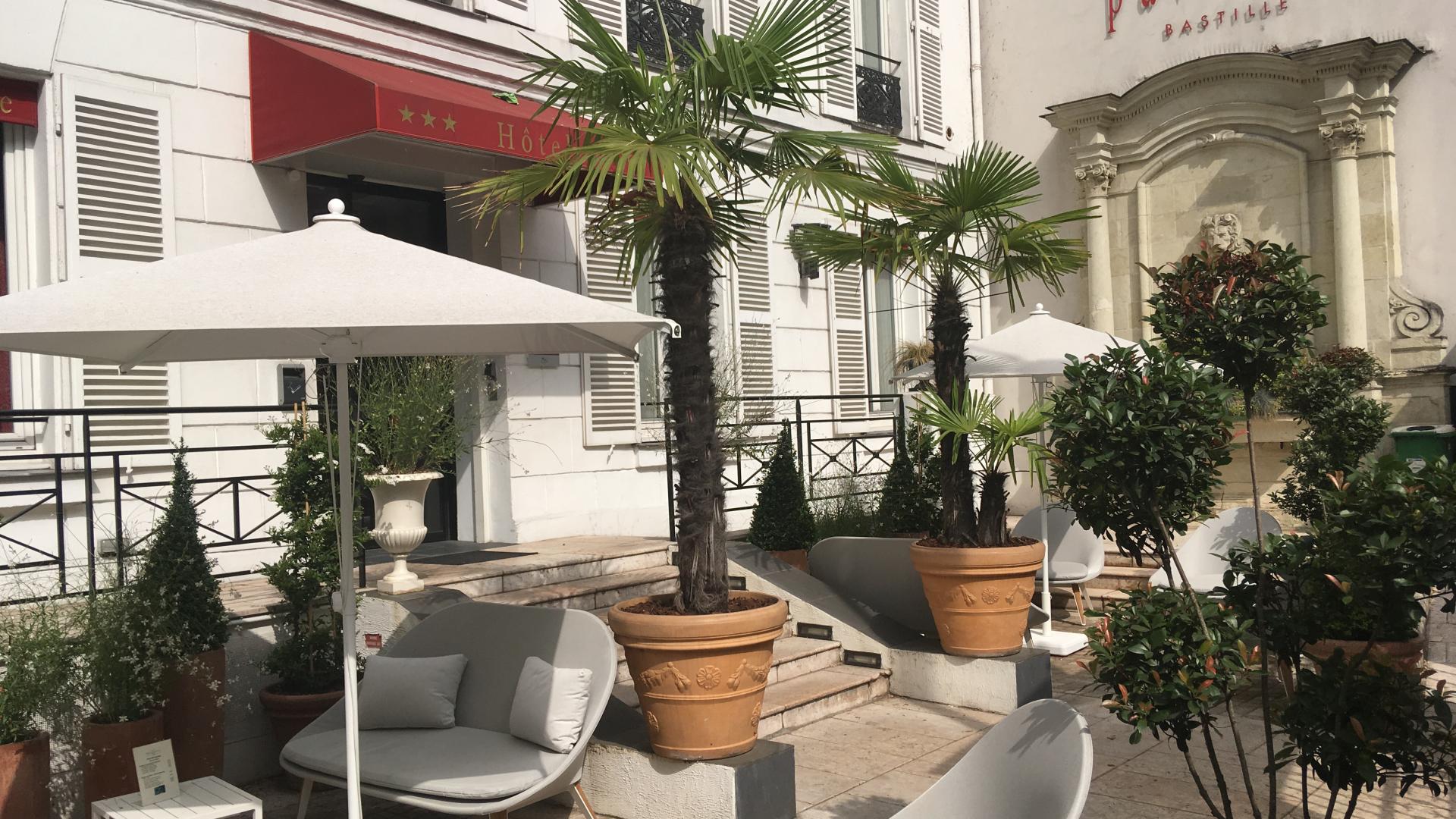 When the summer sunshine arrives, you don't want to find yourself stuck inside four walls, even when you've returned to your hotel following a day of sightseeing in Paris! That's why your Hotel Pavillon Bastille has created for you an exclusive terrace area that is an invitation to relax and enjoy the sun in the day and the mild temperatures in the evening. Discover our new terrace and try it out as soon as you arrive in Paris!
The terrace; a space for your pleasure
A link between the lively 12th arrondissement of Paris and the peaceful haven that is your hotel, the Pavillon Bastille terrace is where you can sit and chill out at any time of the day. In the morning, you can enjoy a last espresso here before heading off to visit the great Parisian museums or enjoy a little shopping. During the day it will welcome you for a well-deserved break, a moment of idleness, a quiet interlude in the heart of Paris. In the evening you can sit and plan your next day's activities.
The heart of your hotel
The Pavillon Bastille terrace is a place to meet, to enjoy, to share. As with the rest of the hotel, here you can enjoy impeccable service, a friendly and relaxed atmosphere, and a tastefully elegant decor. It combines the sobriety of designer garden furniture with traditional Parisian aesthetics, potted plants, white parasols and wrought iron balustrades. Consider the terrace an extension of the comfort and privacy of your room and the friendly atmosphere of the breakfast room. A place of life, welcoming and soothing, just like your Hotel Pavillon Bastille!
The Pavillon Bastille brings you the pleasures of a typical Parisian terrace. You will find soft sofas, comfortable chairs and parasols offering cool shade. It will bring to your stay in Paris a touch of the French Riviera!